Podcasting
---
Our Platforms Give You Control
Our Business Podcasting Platform is essential for those who do not wish to "get lost" in the world of 700,000 pods. Here a company maintains ownership of their audio and video content, unlike Spotify or YouTube. Use this platform to maintain contact with your clients or employees. There are some amazing features:
Audio and/or video can be hosted
Full customization; control colors, album art, banner ads, buttons and text.
Use your brand's logo
Allows for downloading audio or video files, or not. You decide what is available for download.
Option for password protection. Make the platform private so that human resource or training videos are kept within the company.
Your banner ads and buttons can be linked to any https website.
Works with all cell phones and tablets that function with the internet. (HTML5 can be downloaded or placed on your home screen)
Counts the number of listeners or viewers of each podcast.
2 different designs
NO PODCAST LIMIT (each podcast can not exceed 200 MB per file upload)
"Channels, shows and podcast" can be set separately. Channels contain shows that contain podcasts. This gives the user the opportunity to classify podcasts in groups and subgroups or better yet, albums and songs!
Great sound quality!
Picture in Picture (full size PIP)
Social Media links for embed
---
Examples
Click on the platform images below to launch our

EXAMPLE

player.
---
The Encore
The encore employs an 8/10 (eight of 10) screen with a side scroller for video (PIP available). There is full background and foreground color control. Images can be added with ease. 6 customized buttons are available at the top, 4 are shown here.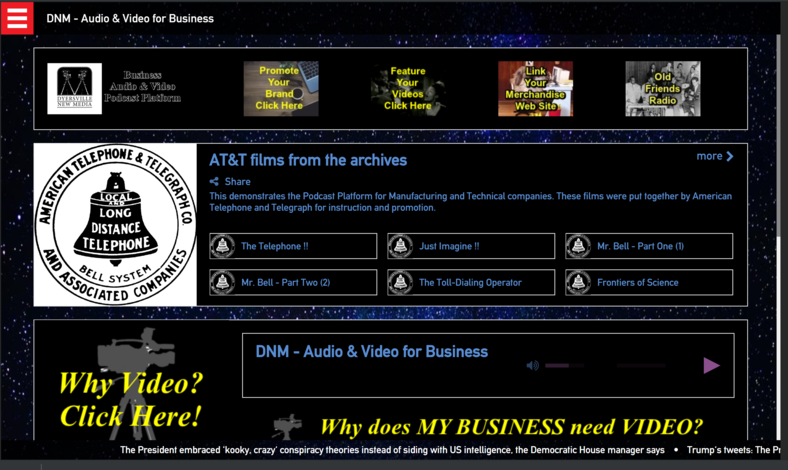 You can use the buttons at the top or the banners for linking featured Podcasts or Videos. There is NO LIMIT to the number of podcasts, there is a 200 MB upload limit to each file. Your logo is placed in the upper left corner and the background image can be controlled by you! There is a "news crawl" at the bottom of the platform that can be customized.
---
The Experience
The Experience employs a full video screen. The podcast choice list appears upon the opening of the platform. 12 customized buttons may be used in a 4 by 4 menu. The background does not customize, it does change with the color of "album art." Your logo is placed in the upper left corner of the Experience platform. Your logo can also appear in the center as the starting "album art."
---
Contact Dyersville New Media for more information!
~LIMITED OFFER~
ONE FREE PODCAST PLATFORM WHEN YOU HIRE
DYERSVILLE NEW MEDIA'S VIDEO SERVICE
-RESTRICTIONS APPLY-
Contact us for details
---